As our client, you will have a team of highly qualified professionals working for you to provide you with the best coverage for you, your family, or your business. Building a long-lasting relationship with our clients is our number one priority.
She Travels featuring Cindy Hartsburg on Vimeo.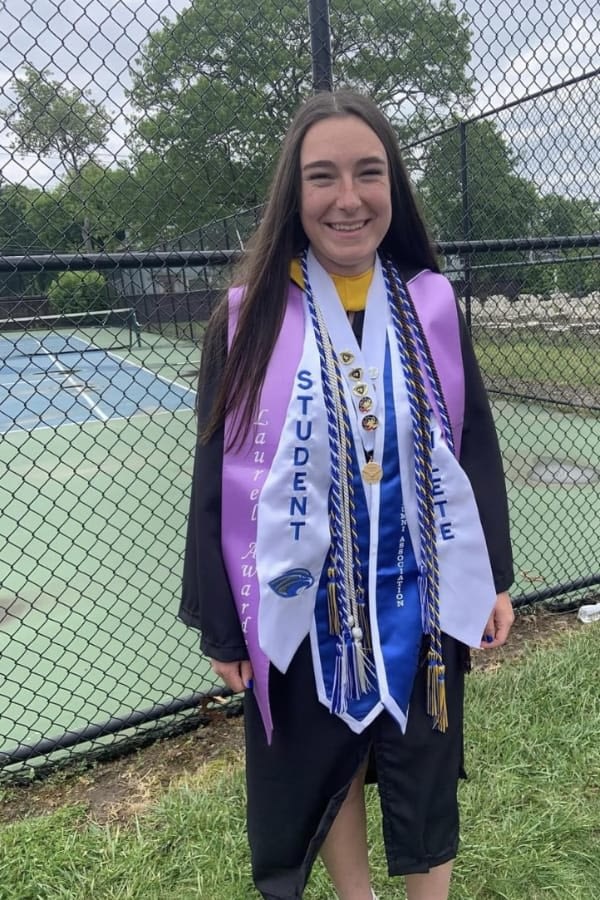 Mariah Mandulak
Mariah Mandulak graduated from Albertus Magnus College, New Haven, CT, this past May 2023 with her Bachelor's degree in business management. She minored in finance and computer information systems to learn as many different aspects of business management as she could. Through her diligent work throughout her college experience, Mariah graduated with many academic distinctions. She graduated as Summa Cum Laude, an honor bestowed upon students with a cumulative grade point average of 3.90 or above. She also was decorated with many stoles and cords that reflected other academic or extracurricular achievements. She wore three stoles, each representing a different part of her Albertus experience.
The first one was awarded for being a part of the Student Alumni Association, an organization that brings students, alumni, and the college community together through many programs. She was also a part of many other clubs, such as the student government association, the campus activities board, and the student-athlete advisory committee. The second stole was awarded for being a student-athlete, as she was a four-year member and captain of the women's tennis team, a two-year member of the women's basketball team, and a two-year member of the women's lacrosse team. Mariah was recruited to come to play for the women's tennis team at Albertus. In regard to her athletic career at Albertus, she was constantly being recognized for her dedication on and off the court/field. She was recently named to the Academic All-District Team for tennis and lacrosse. In addition, for her senior season of tennis, she was named to the 2022 Great Northeast Athletic Conference (GNAC) Women's Tennis All-Conference Second Team for singles play. The final stole was called a Laurel Award, in which the college recognized her hard work in the business department.
Finally, the cords recognized Mariah for being a part of the honors program at Albertus, being inducted into the Kappa Gamma Pi Honor Society, and for her honors as Summa Cum Laude. The honors program required participants to partake in rigorous honors classes as well as complete honors projects. The Kappa Gamma Pi Honor Society is a selective society students need to apply and be inducted into for exemplifying, studying, community service, extracurriculars, and catholic tradition.
Mariah started her master's classes her senior year so that she would be eligible for the four-plus-one plan to get her MBA in a year. Mariah will continue pursuing higher education at Albertus, which will be fully covered by her being accepted as a graduate assistant for the admissions office.
Mariah Mandulak has been working with Insurlynx since 2018 as a Customer Service Representative. She is currently attending Albertus Magnus College on a tennis scholarship and plans on graduating in 2023 with an MBA. Mariah is majoring in business management and minoring in computer information systems. Mariah is not only dedicated to her schoolwork and the Insurlynx team but is an avid animal lover and is always adopting new pets to nurture.
Cindy Hartsburg
Owner, President
12039135909
Cynthia "Cindy" Hartsburg is the Owner and President of Insurlynx Insurance Group, LLC. Cindy began her career in 1997 as an Insurance Sales Representative for the Fortune 500 Company, Oxford Health Plans. With her dedication and drive, she earned the "Powerhouse" Award, Top Sales Leader in both Connecticut and the Tri State Area, along with many other sales achievements.
She continued her venture in Sales as the Director of a start-up company, which has since grown to over 200 employees. While devoting many years to her career in Sales, she recognized much of her success was due to her passion to assist people in choosing the correct insurance to meet their specific needs.
Cindy's vision was to create a company committed to helping employers and businesses with all their insurance needs. With innovative thinking, a drive to succeed and dedication to educate the consumer, Cindy set out to create her own national company, Insurlynx Insurance Group, LLC.
Her successful approach was to take it a step further and offer solutions for business owners helping them "link" all their business and insurance needs together, including payroll, HRIS, IT solutions, Wealth Management services, CPA services, Employer Compliance, etc.
The name Insurlynx Insurance Group, LLC embodies just that: linking people to insurance services and more all under one company.
Learn more about Cindy Hartsburg and the Insurlynx Insurance Group in Cindy's interview as a part of the She Travels Initiative.
Michelle O'Brien
Michelle joined the Insurlynx team in 2016 as our office assistant. She graduated from Purdue University with a B.S. in Landscape Architecture and started her career as a Landscape Designer and Land Planner in Colorado and Virginia.
Once she and her husband moved to Connecticut, she reinvented herself as an office assistant for a hotel real estate broker. Working in such a small office, she was in charge of all aspects of the business – from billing to marketing. Michelle took time off from working to raise her children and just recently came back to the workforce here with us at Insurlynx.
Rachel Giangregorio
Assistant Team Manager; Agency Management Support Distribution
Rachel has been working with Insurlynx since 2016 where she began as a Sales Assistant. She graduated from Florida Atlantic University in 2020. She went to school for business management with a focus in marketing to further her knowledge and career with Insurlynx.
As the Assistant Team Manager, Rachel is responsible for day-to-day internal activities and spearheads questions coming in from our sales support/service team.
Rachel works closely with customers to provide the best service Insurlynx can offer. With a focus on our National PAL's quotes, new business submissions and renewals, she allows for quick and accurate turnaround times on service and COI requests while coordinating efforts internally behind the scenes.
Rachel is instrumental in managing our agency management system and distributing information internally to our team to ensure we are optimizing its capabilities. She also handles the social media posts on Facebook and runs informational campaigns with useful tips.
Loretta Marty
(203) 538-0508 ext. 5
Loretta Marty joined us in September 2017 as a Customer Service Representative. She graduated from Sacred Heart University with a B.S. Degree in Business Administration and an MBA in Finance. She spent her career working for a large consumer products company in Customer Service, Logistics and Consumer Relations. Loretta took time off from working to raise her family, and just recently re-entered the workforce with us here at Insurlynx. She is married and has 2 children.
Kathy Gillespie
Sales Support Manager
(203) 538-0508 ext. 6
After graduating from Creighton University, Kathy worked in the HR and Benefits field of Fortune 500 companies and large law firms for over 14 years. She then dedicated her full-time attention to raising her 3 children with her husband, Tom. Her involvement in many school and community groups kept her active and engaged until her return to the workforce nearly ten years ago as a substitute teacher and, later, director of an after-school program. Kathy joined Insurlynx Insurance Group in 2017.
Kathy immediately put her HR expertise back to work by working alongside Cindy to cultivate and grow her own relationship with each Insurlynx client. Over the past four years, Kathy has dedicated her time collaborating closely with all the HR departments and their employees by coordinating and attending renewal meetings. She is responsive to client's employee's phone calls, claims assistance, billing resolution, etc.
Kathy was instrumental in integrating the HRIS platform with multiple payroll feeds to the different carriers for benefits offered to employees. Understanding communication, timing, and excellence in service is the top priority, Kathy makes it look effortless on how many things she can juggle in a week for all our clients. She always goes the extra mile with the happiest disposition.
When asked Kathy will say she could not be happier working alongside the results-oriented, customer-focused team Cindy has assembled and our clients feel the same working with her.
Brian Zavoluk
Brian joined Insurlynx in 2019 with a strong sales background and a determined attitude. After graduating from Castleton University with a B.S. in Business Administration and Marketing he began working as an Administrative Assistant for a Law Firm in Fairfield County. From there he switched lanes and began his sales career at Curtiss Ryan Honda where he managed the internet sales team for several years. Looking for a new challenge, the energy, customer-oriented environment and professionalism offered by Cindy and Insurlynx was just the opportunity he was looking for. He enjoys working with the talented and dedicated team Cindy has put together at Insurlynx.
Christine (Tina) Wisneski
A graduate of Fairfield University, Tina started her career working for a Human Resources and Benefits Consulting firm. After getting married, Tina changed gears and followed her love of people and art and became a hairstylist where she worked for a high-end salon in Fairfield CT for 11 years.
From there, Tina got creative and started her own business, taking her chair to the client, traveling to people's homes servicing their hair and beauty needs.
Having mastered a work/life balance, Tina is very excited to join the Insurlynx team, combining her business skill, focused attention to clients' needs and superior customer service experience.